Description
Autodesk InfoDrainage Ultimate 2023
Lifetime Activation – Create sustainable drainage designs
Lifetime Activation – For Windows
No extra fees in the future
We will activate the software for you by TeamViewer software for remote desktop
InfoDrainage is a full design and analysis solution that designers, developers, landscape architects, engineers, consultants, and approval authorities rely on to:

Design and audit drainage systems quickly and confidently
Deliver sustainable, cost-effective, and compliant designs
Access a complete BIM (Building Information Modeling) solution
Autodesk InfoDrainage Ultimate is a powerful software tool designed for the planning and design of urban drainage systems. It is a comprehensive solution that allows engineers and urban planners to create and analyze drainage networks, assess flood risks, and design sustainable solutions. In this article, we'll take a closer look at what Autodesk InfoDrainage is and explore its features and capabilities in more detail.
What is Autodesk InfoDrainage?
Autodesk InfoDrainage Ultimate is a software application that combines hydraulic modeling with geographic information systems (GIS) to create detailed 2D and 3D models of urban drainage systems. It is designed to help engineers and planners identify areas of risk, optimize the layout of drainage systems, and design effective solutions to mitigate the effects of flooding.
Autodesk InfoDrainage Ultimate is part of the Autodesk Infrastructure Design Suite, which is a collection of tools for civil infrastructure design and documentation. It is used by a wide range of professionals, including civil engineers, urban planners, water resource managers, and local government officials.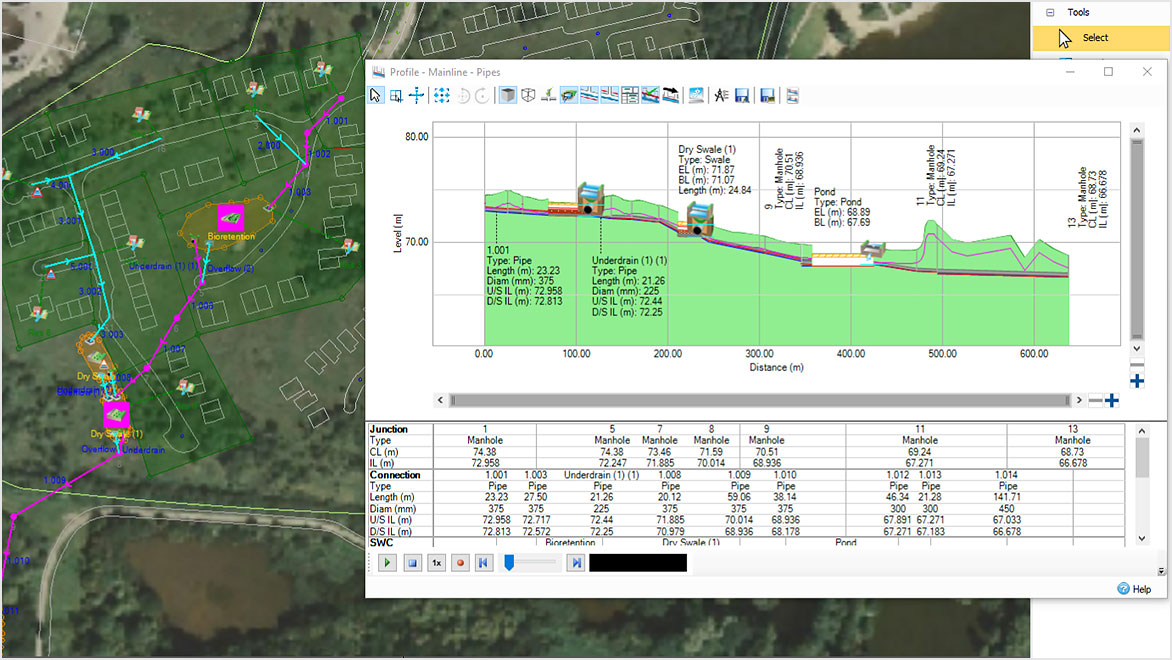 Take the complexity out of drainage design
Improve efficiency, compliance, and control across the lifecycle of your project. Saving time on sustainable design lets you optimize workflows and obtain faster approvals.

Key Features of Autodesk InfoDrainage
Hydraulic Modeling: Autodesk InfoDrainage Ultimate  allows users to create detailed hydraulic models of urban drainage systems. This includes modeling of pipes, culverts, channels, and other elements of the drainage network. The software provides a range of tools for simulating water flow and calculating the hydraulic performance of the system.
Flood Risk Analysis: One of the key features of Autodesk InfoDrainage is its ability to analyze flood risks. The software can be used to identify areas of risk and simulate the effects of various flood scenarios. This information can be used to inform decisions about the design and placement of drainage systems, as well as to plan emergency response procedures.
GIS Integration: Autodesk InfoDrainage integrates with GIS data, allowing users to create detailed 2D and 3D models of the drainage system. The software can import data from a range of sources, including AutoCAD drawings, GIS databases, and satellite imagery.
Sustainability: Autodesk InfoDrainage Ultimate includes tools for designing sustainable drainage systems. This includes the use of green infrastructure, such as rain gardens and bioswales, to manage stormwater runoff. The software can be used to analyze the effectiveness of these measures and optimize their placement within the drainage network.
Collaboration: Autodesk InfoDrainage includes collaboration tools that allow multiple users to work on the same project simultaneously. This can include sharing of models, data, and design information. The software also includes version control tools that allow users to track changes and revert to earlier versions if necessary.
Reporting: Autodesk InfoDrainage includes tools for generating detailed reports on the performance of the drainage system. This includes information on water flow, pressure, and velocity, as well as data on the size and capacity of pipes and other elements of the system.
Benefits of Autodesk InfoDrainage
Improved Design: Autodesk InfoDrainage allows engineers and planners to create detailed and accurate models of urban drainage systems. This can lead to improved designs that are more effective and efficient at managing stormwater runoff.
Better Risk Management: By analyzing flood risks and simulating various scenarios, Autodesk InfoDrainage can help to identify areas of risk and develop effective strategies for managing them.
Sustainable Solutions: The software includes tools for designing sustainable drainage systems that incorporate green infrastructure. This can help to reduce the environmental impact of urban drainage systems and improve water quality.
Improved Collaboration: Autodesk InfoDrainage Ultimate includes collaboration tools that allow multiple users to work on the same project simultaneously. This can help to improve communication and streamline the design process.
Time and Cost Savings: By automating many aspects of the design process and providing detailed analysis