Description
Guitar Pro 8 The best tab maker and reader to create-play sheet music For MAC
Lifetime Activation 
Free updates every while.
30 days money back guarantee 
The best tab maker and reader
to create, play and share sheet music!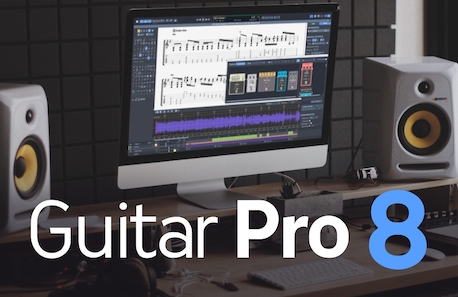 NEW GUITAR PRO 8 AVAILABLE
This new version of Guitar Pro offers many improvements and new features to users. This time, we have made our best to offer you a better product without changing the user experience.
Discover our new features: add an audio track to your scores, use the visual metronome, customize your tabs easily, display scale diagrams on your tabs, edit tabs faster and many more…
Easily edit tablatures and scores for guitar, bass, ukulele, banjo, percussion, and many other instruments.
Make faster progress with the many integrated tools:
a metronome, chord and scale libraries, a tuner
and virtual instruments.
Adjust and gradually increase the tempo, loop sections, create drum and piano backing tracks to practice.
Enjoy realistic audio rendering and preset sounds that faithfully reproduce the sound of your favorite artists.
Discover Guitar Pro's features
Guitar Pro is the leading software for reading and editing tabs. For 25 years, Guitar Pro has been helping musicians worldwide learn to play the guitar, compose songs, and transcribe and edit songbooks.
Play accompanied

Hit play and learn your favourite songs accompanied by the score.

Create

Edit your scores easily with numerous editing tools such as scale and chord diagrams.

Craft your sound

Play with more than 100 instruments to create your own tabs: guitars, basses, drums…

Customize your tabs

Create professionally designed sheet music for your songbooks or students.

Share

The Guitar Pro file is the most widespread and shared among musicians and guitarists worldwide.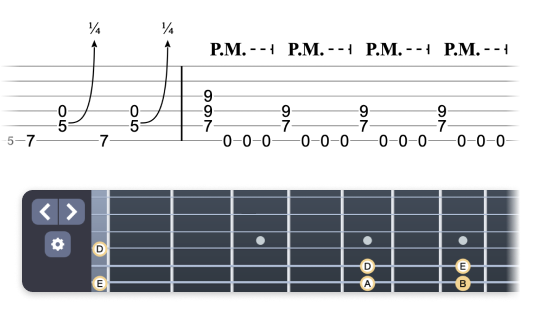 Learn songs without knowing music theory
Guitar Pro lets you choose your notation, whatever the instrument: tablature, standard notation, or rhythmic notation. No need to master music theory to learn a song.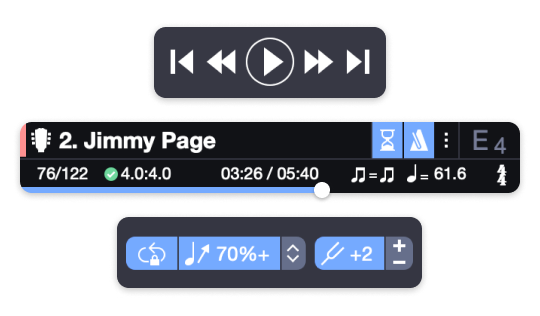 Use advanced playback features
Metronome, visual countdown, looping, solo/mute, speed trainer… Guitar Pro offers many tools to help you learn.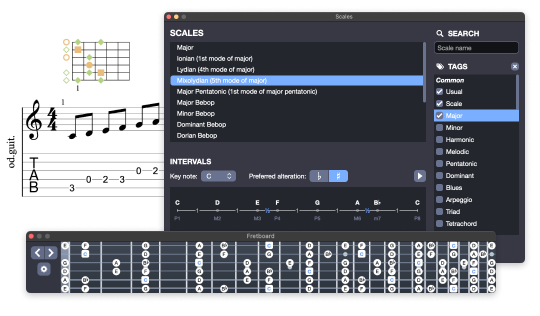 Take advantage of the chord and scale tools
Guitar Pro includes libraries containing thousands of chords and scales to develop your creativity.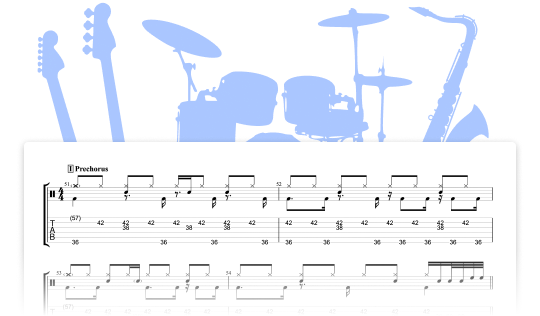 Create tablatures with many instruments
You can compose for dozens of different instruments. Guitar Pro allows you to edit instruments from 3 to 10 strings, keyboards, drums, percussion, and much more.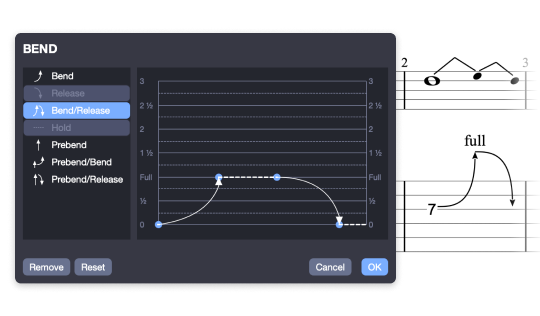 Enjoy specific guitar technique notations
Bends, vibratos, slides, palm mute, let ring… every effect or notation element can be edited in Guitar Pro. Express your creativity to the fullest!